Tummy Tuck
For some people there is just no getting around genetics. All the dieting, Friday night fish fry fasting and crunches in the world will not remove the stubborn layer of fat in the lower abdomen. For other people, there is an additional hurdle to deal with after weight loss — sagging skin that will not rebound. And for many women, there is no way to regain a toned tummy once the abdomen has stretched to accommodate childbearing.
If one of these scenarios fits you, don't give up. There are many options to improve the look of your midsection. At Fox Valley Plastic Surgery in Oshkosh, Wisconsin, tummy tuck (abdominoplasty) surgery is performed to improve the appearance of the lower abdominal area, reducing excess fat and loose, stretched skin. Our Milwaukee, Fox Cities, and Green Bay patients find that these procedures can be a lot easier and more affordable than they would think.
Ideal Candidates
Candidates for an abdominoplasty must be healthy, and have a reasonable BMI. As odd as it sounds, abdominoplasty candidates need to lose excess weight before an operation is feasible. Ideal candidates are:
Men and women, who are in relatively good shape, but despite all the dieting and exercise are troubled with excess skin and fatty tissue.
Women who, through pregnancies, have stretched skin and abdominal muscles beyond self-repairing.
Major weight loss patients with large amounts of excess skin that have loss of skin elasticity.
It is best to lose weight prior to the procedure to maximize the results. Women who plan on future pregnancies should wait due to the potential muscle tightening.
Meet Our Surgeons
Dr. David Janssen and Dr. William Doubek combine experience, refined surgical techniques, and artistry to produce beautiful results for their plastic and reconstructive surgery patients.
Types of Abdominoplasties
Unlike other procedures in which there are only a few ways to perform a surgery, an abdominoplasty has many variations to address each patient's individual needs.
Full (or Formal) Abdominoplasty
Removes fat and excess skin, and tightens muscles all in one procedure.
Moderate Abdominoplasty
Removes fat and excess skin without tightening the muscles.
Mini Abdominoplasty
Removes excess skin from bellow the naval only.
Extended Abdominoplasty
An extension of a full abdominoplasty, the incision extends beyond the hips.

Reverse Abdominoplasty
Excision of the upper abdomen leaving an incision along the breast fold.
Fleur de Lis Abdominoplasty
Removes excess skin from the lower abdomen by pulling it towards the midline and removing excess skin from lower abdomen. The result leaves an upside down T incision.

View All Videos
Preparing for Surgery
If you are planning on losing weight, do so before an abdominoplasty to give you the best result.
Smoking must be stopped one to two months prior to surgery.
All aspirin and blood thinners must be stopped 10 days prior.
Potential Risks
No surgery should ever be taken lightly. Some potential risks of surgery are:
Bleeding
Infection
Unfavorable scarring
Blood clots
Poor wound healing
Fluid accumulation
Asymmetry
Recurrent looseness of skin
At your personal consultation for an abdominoplasty, your provider will review all the risks of the procedures, and will address any concerns which you may have regarding the safety of the procedure. Smoking definitively increases the risk of having a complication after surgery. All smokers must stop smoking one to two months prior to surgery, and one month after surgery to insure proper healing and an optimal outcome.
Consultation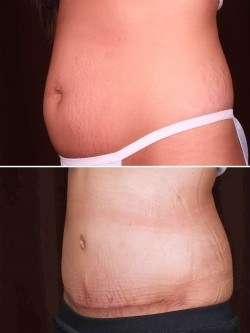 An individual consultation is the first step towards perfecting your personal renaissance. Many patients are not aware of the amount of correction that they need, in order to reach their goal of a slimmer abdomen. Some patients, who feel that they are a candidate for a moderate abdominoplasty, may find out that they really need a full abdominoplasty. Others can get away with just a mini abdominoplasty. Finally, some patients do not need any surgery at all. FVPS offers other minimally invasive procedures, such as Coolsculpting and Exilis, which can accomplish the same goals for some patients.
Meeting with either Dr. David Janssen or Dr. William Doubek, both board-certified plastic surgeons, will give patients an unbiased assessment of their abdomens. During the consultation, an evaluation of the patient's physical and emotional health will be used to create a personal care plan. Based on the findings of a physical exam, a determination of the best surgical or nonsurgical procedures will be discussed and presented to the patient.
An abdominoplasty can be combined with breast augmentation to give Oshkosh, Milwaukee, Madison, Fox Cities, and Green Bay patients a more comprehensive result.

Patient Resources
If you would like to explore whether the abdominoplasty procedure is right for you, request your consultation online or call the office at (920) 233-1540 to set up your appointment.