ThermiTight™ Skin Tightening
ThermiTight™ Skin Tightening
ThermiTight™ is the first aesthetic procedure to deliver controlled thermal energy under the skin to reverse the effects of aging. Using targeted radio frequencies, ThermiTight™ safely re-firms sagging skin areas like the face, neck, stomach, and thighs. ThermiTight™ is ideal for patients who want more tightening results than non-invasive procedures can deliver, but do not want to undergo surgery.
The Laser Institute of Wisconsin can tighten your skin with ThermiTight. Our skilled laser technicians are helping women and men from places such as Green Bay, Appleton, Fond du Lac, and Sheboygan perfect their personal Renaissance. Contact the Laser Institute of Wisconsin at (920) 233-1540 to request your ThermiTight consultation.

Meet Our Surgeons
Dr. David Janssen and Dr. William Doubek combine experience, refined surgical techniques, and artistry to produce beautiful results for their plastic and reconstructive surgery patients.
How It Works
ThermiTight™ is a painless, micro-invasive procedure that usually takes 1-2 hours depending on the treatment area. The treatment areas are numbed with a small amount of local anesthetic, and a very small incision is made to allow the radiofrequency fiber under the skin. Then, a controlled amount of radiofrequency energy is applied directly to the target tissues to cause shrinkage.
The tip of the tiny probe provides constant feedback of the actual temperature during treatment. In addition, a camera is used to monitor skin temperature to ensure that the treatment is safe and effective.  The fiber heats the target tissues, tightening the skin and diminishing fat pockets. After the procedure, the tiny incisions are taped and a compression bandage is applied.
View All Videos
When Results Appear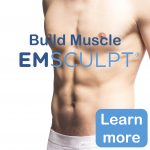 ThermiTight™ is a single-treatment solution that produces a three-dimensional improvement in the appearance of skin laxity. Results are usually apparent after three months, and improve over time. Final results do not occur until 9-12 months, and the effects have been shown to last several years.
Nothing can replace surgery for the most dramatic results in the shortest amount of time. Depending on the area of concern, surgery may be a better option. If the problem area is mild to moderate, ThermiTight™ may be a good alternative provided the wait time is acceptable.
Good Candidates
ThermiTight™ is ideal for patients who:
Do not want surgery
Want faster and longer-lasting results
Want to look natural
Do not have good results from non-invasive treatments
The procedure can be performed on men and women of all ages. Candidates for facial ThermiTight™ want to significantly tighten their lower face and/or neck without undergoing a larger procedure. Ideal ThermiTight™ patients for the stomach have small fat deposits around their middle, which need some skin tightening.  Men who opt for ThermiTight on the neck, may experience temporary lack of hair growth along the tracks where the ThermiTight cannula was inserted.  Therefore, men who desire facial hair on the lower part of their face, may not want their neck treated.
Chemotherapy and radiation treatments can make the skin very dry, thin and vulnerable due to the rapid dying of cell tissue. During and up to one year after completing all oncology medical treatments, only gentle hydrating and restorative treatments can be performed on the skin surface. This would disqualify almost all the services of the Renaissance Medispa and the Laser Institute of Wisconsin™. If you have concerns, please address them with your medical provider. It is always best to err on the side of caution in treating compromised skin.
To learn more about ThermiTight, contact the Laser Institute of Wisconsin at (920) 233-1540 to request your ThermiTight consultation.
Does It Hurt?
Because ThermiTight™ uses local anesthetic, some patients experience slight discomfort during the injection of the numbing agent. However, after the area is numbed, there is little discomfort. Patients may feel pressure or warmth, but not pain. Swelling and bruising will occur, but adhering to aftercare instructions will minimize these effects.

Real Patient Story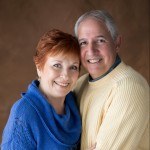 Read about Julie's experience with the Medispa and other real patient stories in the Real Patient Stories section of our website. Julie's interest in the Medispa started simply with eyelash tinting. With a Visia skin complexion analysis, Julie was able to see where and how she could improve. Her husband and we agree she looks radiant.

Recovery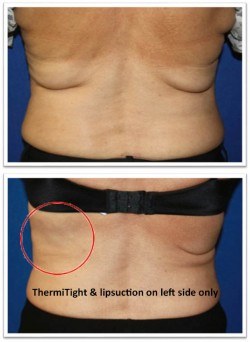 Patients should rest for the first 12 hours, and then have only mild daily activity for the next 2-3 days. Normal activities can resume as tolerated. Patients may experience redness or droopiness, which subsides in 4-6 hours. Mild to moderate swelling and/or bruising may be experienced for up to 1-2 weeks following the procedure – icing is permitted to reduce the swelling.  Patients should wait 4-5 hours after the procedure to begin icing.  Icing too early may reduce the heating effects of the procedure.
A compression bandage/garment should be worn for the first 24 hours after the procedure, and nightly for the next five nights.  The longer the compression is worn, the better the result.
Drainage from the incision sites may occur following the procedure, and should subside in 24-72 hours.  The treated area will be tender for several weeks.  Some patients feel that it is more comfortable to exercise with a compression bandage, because the sensitive treated area may hurt from being jostled.
How Much Fat is Removed?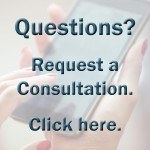 ThermiTight™ is used primarily for skin tightening and reduction of small areas of fat. Liposuction, however, can remove large areas of excess fat, but it is a surgical procedure. ThemiTight™ can be combined with liposuction in the same area.
ThermiTight™ tightens the skin to a much greater extent than any other technology available. Liposuction alone tightens skin by a factor of eight; ThermiTight™ tightens skin by a factor of 30+.
Would you like to learn more about ThermiTight? Contact the Laser Institute of Wisconsin at (920) 233-1540 to request your ThermiTight consultation.
Pricing
ThermiTight™ pricing varies by body part and the size of the treated area. It includes the initial consultation, the actual procedure, and follow up visits.  Some procedures include a compression bandage in the pricing.
Although an individual consult is needed to confirm pricing, pricing is generally as follows: neck $2500, arms (posterior) $3000, knees $1500, back fat $2000, front axillary by bra $2000, stomach (5"x8″) $2500, inner thighs $3500, buttocks for cellulite $3500, flanks $2500, and festoons under eyes $1500.
The price increases if the treated area is larger than standard, or if there have been previous procedures to the area, which makes the treatment more complicated and riskier.
Patients who book two areas of correction to be performed on the same day, are eligible for a 15% discount off their second procedure. Former FVPS cosmetic surgery patients or CoolSculpting®/Exilis patients also receive 15% off their first ThermiTight™ procedure. Cash or credit card only.
When added to surgery, such as liposuction, ThermiTight™ is a separate charge. Please request a custom quote.
See if ThermiTight™ would work for you. Make an appointment with one of our professionals to discuss your concerns, and to devise a comprehensive and personalized treatment plan. Call (920) 233-1540 to request your ThermiTight consultation today.