Dermal Fillers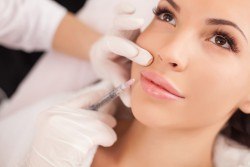 Dermal Fillers are injected into the skin in tiny amounts using an ultrafine needle. Our skilled registered nurse injectors may massage your skin gently to optimize contouring of the gel. This treatment works in two ways. Once injected into the mid to deep dermis (middle layer of skin), the dermal filler gel adds volume and fullness, which smoothes out facial wrinkles and folds. Then the gel integrates into dermal tissue, attracts and binds to water molecules, and helps to maintain volume. Injectable dermal filler is made from the body's own material such as hyaluronic acid or collagen, and provides instantaneous, long-lasting natural enhancement.
A great deal of artistry, skill, and attention to detail are required when working with the subtleties of dermal fillers. The skilled injectors at the Renaissance Medispa assures you results and safety you would expect from cosmetic and aesthetic healthcare professionals. Their expertise in dermal fillers is helping women and men from places such as Milwaukee, Appleton, Green Bay and Marquette perfect their personal Renaissance. Schedule your VISIA® skin care evaluation today by calling (920) 233-1540.
Meet Our Surgeons
Dr. David Janssen and Dr. William Doubek combine experience, refined surgical techniques, and artistry to produce beautiful results for their plastic and reconstructive surgery patients.
Dermal Fillers Defined
Not every wrinkle is right for every type of wrinkle filler. The least risks and best results come from using the right wrinkle filler correctly. That is one reason why you should only have dermal fillers injected under the supervision of a board-certified plastic surgeon.

View All Videos
Hyaluronic Acid Dermal Fillers
The most popular category of wrinkle fillers is hyaluronic acid dermal fillers. Each type of hyaluronic acid wrinkle filler works in a slightly different way with varying results. Side effects are rare, but they can include redness, swelling, and bruising at the injection site. The filler may also be seen beneath the skin as tiny bumps. This is a problem that often improves over time.
How long the results last varies from several months to over a year. Some research shows that repeated injections may help stimulate the body's own natural production of collagen. That will help reduce the number of lines and wrinkles. There is also some evidence that less filler is needed over time to achieve the same look.
Hyaluronic wrinkle fillers include Restylane® and Perlane®. Restylane adds volume and fullness to the skin to correct moderate to severe facial wrinkles and folds, such as the lines from your nose to the corners of your mouth. What makes Perlane different is the average size of the particles and the depth of injection. On average, the gel particles in Perlane are larger than those in Restylane, which makes Perlane a good choice for wrinkles that benefit from a deeper injection into the skin.
Synthetic Dermal Fillers
A smaller category of wrinkle fillers, synthetic dermal fillers, include lab-made substances that are not related to anything found naturally in the skin. All fillers in this group have similar side effects. Redness, swelling, or bruising at the site of the injection is one of the most common. Other possible side effects include nodules or bumps under the skin that can be seen and felt and that, in rare instances, may require surgical removal.
The benefits of this category include a longer-lasting effect. Products with longer-lasting effects are more likely to cause side effects. When not used correctly, however, synthetic wrinkle fillers may cause permanent disfigurement.
Synthetic Dermal Fillers include Radiesse® Volumizing Filler. Radiesse acts as a scaffold under the skin, providing structure and stimulating your own natural collagen to grow. The production of natural collagen continues for several months, which extends beyond the initial effect of RADIESSE Volumizing Filler. The natural results are clinically proven to last a year or more in many patients.

Collagen Dermal Fillers
One of the first dermal fillers developed, collagen dermal fillers were made from a purified form of collagen extracted mostly from cows. Although it worked well and offered a natural looking line and crease fill, the results began to break down as soon as one month after treatment. Because these dermal fillers were made from an animal source, they also had a higher rate of allergic reaction and required allergy testing before treatment.
Newer forms of synthetic collagens are making these injections safer and more useful for a wider range of people, but the results are generally shorter lived than other wrinkle fillers. As a result, the Renaissance Medispa does not offer any collagen dermal fillers.
Dermal Fat Grafting
Dermal fat grafting involves fat taken from your own body, such as the thighs, buttocks, or stomach, and used for fine lines and creases on the face. Although fat grafting is not commonly used, it can be an option for some people. Call us today at (920) 233-1540 for a consultation with one of our plastic surgeons if this option appeals to you.
Risks for these injections are similar to other wrinkle fillers, including bruising, redness, and swelling at the site of the injection. You need to have a procedure to remove the fat and another one to inject it. Both are done in one visit. Results can be permanent, although you may need a series of injections. Because the fillers come from your body, these injections do not require FDA approval.

Real Patient Story
Read about Julie's experience with the Medispa and other real patient stories in the Real Patient Stories section of our website. Julie's interest in the Medispa started simply with eyelash tinting. With a Visia skin complexion analysis, Julie was able to see where and how she could improve. Her husband and we agree she looks radiant.



The face of your youth is just a call away. When it comes to perfecting their personal Renaissance through spa and laser services, Wisconsin residents trust the Renaissance Medispa at Fox Valley Plastic Surgery. Contact us at (920) 233-1540 to schedule your VISIA skin analysis.  Your $50 Visia fee can be applied toward a same day Medispa purchase.

Patient Resources