Dermal Fillers
What makes a youthful face? It may be hard to describe, but it is easy to see. The underlying structure of the face gives it the appearance of youthful face. It is clearly illustrated below by Galderma.

Bone, fat and collagen are 3 important materials that give the face volume and firmness. Facing aging is caused by structural changes that lead to volume loss. The rate of aging may differ, but everyone eventually experiences wrinkles, lines, and skin laxity because of bone loss, fat redistribution, and collagen breakdown. A common misconception about facial aging involves the role of gravity. The real culprit is deflation (loss of volume and structure) rather than descent (drooping or sagging). Sculptra and Restylane fillers play a vital role in replacing volume to restore a youthful appearance.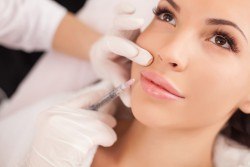 Dermal fillers are injected into the skin in tiny amounts using an ultrafine needle. Our skilled registered nurse injectors may massage your skin gently to optimize contouring of the gel. This treatment works in two ways. Once injected into the mid to deep dermis (middle layer of skin), the dermal filler gel adds volume and fullness, which smoothes out facial wrinkles and folds. Then the gel integrates into dermal tissue, attracts and binds to water molecules, and helps to maintain volume. Injectable dermal filler is made from the body's own material such as hyaluronic acid or collagen, and provides instantaneous, long-lasting natural enhancement.
A great deal of artistry, skill, and attention to detail are required when working with the subtleties of dermal fillers. The skilled injectors at the Renaissance Medispa assures you results and safety you would expect from cosmetic and aesthetic healthcare professionals. Their expertise in dermal fillers is helping women and men from places such as Milwaukee, Appleton, Green Bay and Marquette perfect their personal Renaissance. Schedule your VISIA® skin care evaluation today by calling (920) 233-1540.
Not every wrinkle is right for every type of wrinkle filler. The least risks and best results come from using the right wrinkle filler correctly. That is one reason why you should only have dermal fillers injected under the supervision of a board-certified plastic surgeon.

View All Videos
Collagen Stimulators
Over time, our face ages, losing collagen, fat, muscle and bone. This leads to a flatter face, hollowing under the cheek bones, sunken temples, jowls and a sinking jaw line. Look at a picture of yourself from your 20's and 30's. Note the more rounded face, filled temples and smooth angular jaw line. Sculptra is meant to restore that facial volume bringing youth to the facial features. There is an excellent visual explanation of facial aging and the roll that fillers can play in restoring your appearance on our website.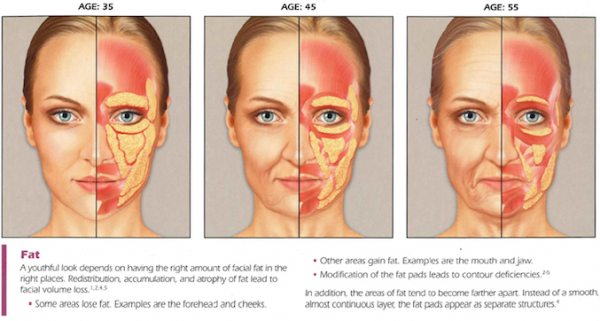 Collagen stimulators are used to diminish facial wrinkles by helping to restore the deep, underlying structure of the skin. Results appear gradually over the treatment regime and can last up to two years. The number of injection appointments (typically three injections over the course of three to four months) and the number of injections per appointment vary from person to person, depending on how much collagen has been lost. In general, expect to need one vial of Sculptra for each decade of age.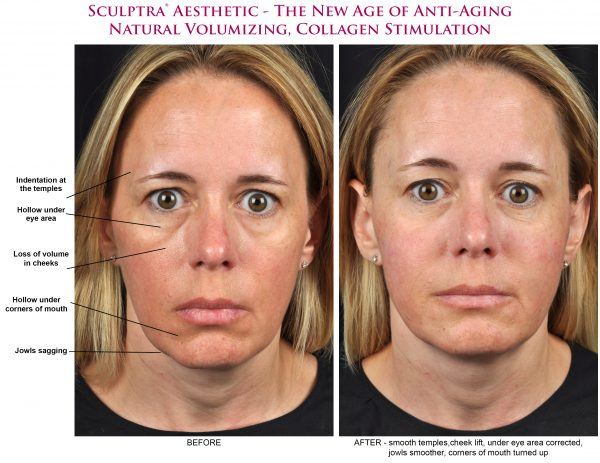 Sculptra® Aesthetic works with your body within the deep dermis, rather than topically, to help revitalize collagen production and help restore your skin's inner structure and volume. As the Sculptra Aesthetic poly-L-lactic acid microparticles are absorbed, they help stimulate collagen production. Rebuilt collagen strands begin gradually helping to restore facial volume and the look of fullness to wrinkles and folds. Sculptra Aesthetic is indicated for use in people with healthy immune systems as a single regimen for the correction of shallow to deep nasolabial fold contour deficiencies and other facial wrinkles in which deep dermal grid pattern (cross-hatch) injection technique is appropriate. Sculptra is priced at $700 per syringe. Get the 4th one for $350.
Hyaluronic Acid Dermal Fillers
The most popular category of wrinkle fillers is hyaluronic acid dermal fillers. Each type of hyaluronic acid wrinkle filler works in a slightly different way with varying results. The next-generation hyaluronic acid (HA) dermal fillers are created with XpresHAn Technology™ to help smooth moderate lines and provide the right amount of support and flexibility through a range of facial expressions. Side effects are rare, but they can include redness, swelling, and bruising at the injection site. The filler may also be seen beneath the skin as tiny bumps. This is a problem that often improves over time.
How long the results last varies from several months to over a year. Some research shows that repeated injections may help stimulate the body's own natural production of collagen. That will help reduce the number of lines and wrinkles. There is also some evidence that less filler is needed over time to achieve the same look.
Our hyaluronic wrinkle fillers include Restylane®, Restylane Refyne, Restylane Defyne, Restylane Lyft,and Restylane Silk. All these different types of Restylane replace lost volume with a lifting gel that provides immediate improvement to lines and wrinkles. They integrate with your skin and act like your own body's hyaluronic acid, give the support you need while allowing a range of facial expressions, and provide minimal downtime. Results can last around 6-12 months. Restylane 1mL syringes are normally priced at $600 per syringe with a discount for additional syringes on the same day.
Dermal Fat Grafting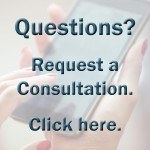 Dermal fat grafting involves fat taken from your own body, such as the thighs, buttocks, or stomach, and used for fine lines and creases on the face. The first step involves the removal of a strip of skin with the underlying fat still attached. The outer skin layer (epidermis) is removed and the lower skin layer (dermis) is retained with the fat. The second step involves the insertion or transplantation to another location on the same patient's body. There will be scars in both the donor and the recipient sites. Although dermal fat grafting is not commonly used, it can be an option for some people.
Risks for these injections are similar to other wrinkle fillers, including bruising, redness, and swelling at the site of the injection. Dermal fat grafting for the face generally costs $4400-$5100. Call us today at (920) 233-1540 for a consultation with one of our plastic surgeons if this option appeals to you.

Real Patient Story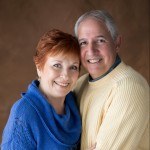 Read about Julie's experience with the Medispa and other real patient stories in the Real Patient Stories section of our website. Julie's interest in the Medispa started simply with eyelash tinting. With a Visia skin complexion analysis, Julie was able to see where and how she could improve. Her husband and we agree she looks radiant.


The face of your youth is just a call away. When it comes to perfecting their personal Renaissance through spa and laser services, Wisconsin residents trust the Renaissance Medispa at Fox Valley Plastic Surgery. Contact us at (920) 233-1540 to schedule your VISIA skin analysis.  Your $50 Visia fee can be applied toward a same day Medispa purchase.

Patient Resources