Qwo® Cellulite Injectable
Get two FREE
Emsculpt
sessions (value $800) to help tone your buttocks after your QWO treatment.

Bring your bottom to the top of your to-do list with Qwo®, the first and only FDA-approved injectable used to treat moderate to severe cellulite in the buttocks of adult women. Qwo is a series of 3 injection treatments spaced 3 weeks apart. It is hard to believe that 90% of women have cellulite. Although it is a naturally occurring condition, 49% are bothered "a great deal" or "a lot" by their cellulite in a Harris poll of 2000 women. Cellulite FAQ's are available here.
Find out if you are appropriate candidate to QWO by calling the Renaissance Medispa now at (920) 233-1540. Schedule your complimentary evaluation today at our Wisconsin practice and discuss the use of Qwo with our skilled nurse injectors. Women and men visit us for injectable treatments from surrounding communities such as Oshkosh, Appleton, and Milwaukee.
How It Works
The primary contributing factor to cellulite is the fibrous connective tissue called the fibrous septae. When the skin (3) thins with aging, and the fat cells (2) enlarge and push against the skin, the fibrous septae (1) bands thicken and push against the skin to create dimples. This causes the visible cellulite on the buttocks.
QWO is made from enzymes called collagenases. These enzymes are thought to target the structural causes under the skin, where cellulite starts, to release the fibrous bands, redistribute fat cells, and stimulate the growth of new collagen. Qwo will be injected three times into the fibrous septae to slowly release the fibrous strands.
Best Candidates
Ideal candidates are adult women who have moderate to severe cases of cellulite in the buttocks. This product is not currently indicated for men, or other parts of the body such as thighs.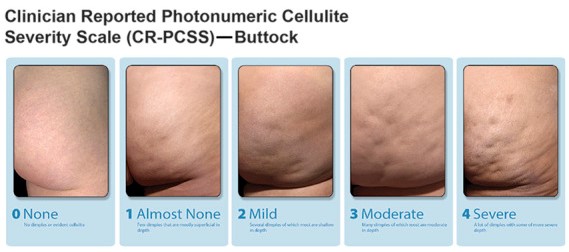 We want to avoid treating laxity as opposed to a true cellulite dimple. As the dermis thins and elastin fibers fragment, the skin loses its ability to recoil back like it once did. This causes the skin to sag. This results in a wavy appearance on the surface of the skin that looks similar to cellulite. This is different from true cellulite dimples which are caused by a thickening of fibrous septae. Differentiate between a true dimple and laxity by lifting the skin above the indentation. If the dimple goes away, it is an indicator that it is laxity and not a true cellulite dimple.
Do not receive QWO if you are allergic to any collagenase or to any of the ingredients in QWO, or if you have an active infection in the treatment area.
Before receiving Qwo, patients should alert us of their medical condition including
have had an allergic reaction to a QWO injection in the past
have a bleeding problem
are pregnant or plan to become pregnant. It is not known if QWO will harm your unborn baby.
are breastfeeding or plan to breastfeed. It is not known if QWO passes into your breast milk.
Tell us all the medicines you take, including prescription and over-the-counter medicines, vitamins, and herbal supplements. Especially tell us if you take a medicine that prevents the clotting of your blood (antiplatelet or anticoagulant medicine). The exception is patients who are taking less than 150mg of aspirin daily.
Highlights of prescribing information are available here.
Preparing for the Procedure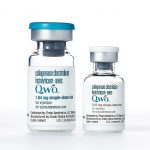 Bruising is expected. Patients are more likely to get profound bruise at the site of the needle injection if they are taking aspirin or ibuprofen; these medications thin the blood and increase bleeding which causes the bruise. Skip the pills for up to two weeks in advance of the treatment.
Patients should also tell the nurse before treatment about any supplements they are taking, even if they are "natural," because some (such as fish oil pills, gingko, or vitamin E) also thin blood. The nurse may ask the patient to not to use those supplements for up to two weeks before the treatment.
Procedure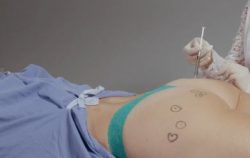 Appropriate dimples for treatment are well defined and evident when the patient is standing relaxed with her feet apart. The buttock muscles should not be engaged when choosing dimples to treat. Dimples near the gluteal crease should not be treated.
Photos will be taken prior to any injection. Each dimple will be marked with a dot and circled with a surgical marker. Photos will be taken to document the treatment and to help evaluate the results at the next patient visit.
While the patient is lying face down on a table, QWO is injected into the fat (subcutaneously) of each circled cellulite dimple. There is no need for a numbing agent. There is a limit of either 6 or 12 dimples per buttock during a treatment. That is a maximum of 12 or 24 dimples being treated on the visit. The entire injection procedure should take 10 minutes. After the injections, the patient needs to remain prone for 5 minutes.
QWO injections are given 21 days apart for 3 treatment visits. The final results are evaluated 28 days after the third visit. The full treatment course is approximately 71 – 90 days.

Recovery
There will be soreness as if you had a good workout. This will resolve in a few days. Do not participate in rigorous exercise involving the bottom half of your body for the first few days.
Nodules may be felt, but they will resolve in 7-10 days. It is a normal side effect of the treatment.
Expect to get injection site bruising following treatment. 84% of the Qwo treated patients in the clinical trials experienced bruising. Due to the mechanism of action, there is often rapid and profound bruising after injection of Qwo. It is believed that there is leakage of small blood vessels near the injection site due to the breakdown of collagen supporting those blood vessels.
Bruising following the first round of injections is the most profound. With each subsequent round, there is a decreasing in incidents, severity and duration. In the clinical trials there was a decrease in the portion of subjects experiencing treatment related injection site bruising with each of the treatment sessions. In addition to the reduction of bruising with each treatment, there was also a reduction in bruising severity in subsequent treatment sessions. In the clinical studies, the majority of patients with severe bruising reported no or mild pain.
Do not schedule injections close to events in which you may want to wear something more revealing like a swimsuit. Bruising may be visible.
Seek immediate medical attention if they experience any symptoms of serious hypersensitivity reactions.
Potential Risks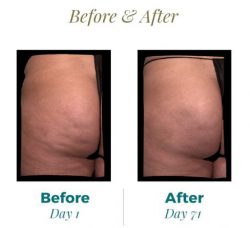 Qwo may cause serious side effects including allergic (hypersensitivity) reactions such as hives, trouble breathing, low blood pressure, swollen face, chest pain, dizziness or fainting, anaphylaxis. The most common side effects of Qwo include bruising, pain, areas of hardness, itching, redness, discoloration, swelling and warmth in the treatment area.
There is a risk of injection site pain after treatment, injection site induration and injection site pruritus. Pain at injection site was reported in half of patients during the clinical trials and typically resolved within 7 days. Many patients said that the pain was minimal.
Smooth skin is just a call away. When it comes to perfecting their personal Renaissance through spa services such as Qwo injections, Milwaukee, Green Bay, Appleton, WI residents trust Fox Valley Plastic Surgery.
Pricing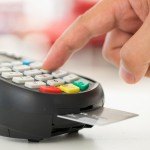 Qwo works most effectively as a package of three treatment sessions spaced 21 days apart. Single treatment sessions are priced at $500 for a 4mL vial to treat 12 dimples, and $800 for a 8mL vial to treat 24 dimples. Save 15% off individual pricing with package. A package of 3-4mL vials costs $1275, and a package of 3-8mL vials costs $2040. Patients must come in for personal consultation for a quote.
Consultation
At your free personal Medispa consultation, you will get a customized treatment plan that is tailored to your issues, goals, and budget. Find out which procedure would be right for you by requesting your free consultation online or calling the office at (920) 233-1540 to set up your appointment. When it comes to perfecting their personal Renaissance through spa and laser services, Wisconsin residents trust the Renaissance Medispa at Fox Valley Plastic Surgery.