Welcome to Fox Valley Plastic Surgery
Helping You Perfect Your Personal Renaissance
If you have an virtual appointment, click on the correct image below to enter the "waiting room" at your appointment time.
Coronavirus Notice to Our Patients
The health, safety and overall well-being of our patients and staff is always our top priority. We monitor the rapidly-changing situation around COVID-19, and responding to new information as it arises with the goal of continuing to safely provide patient care. In addition to following the guidance provided by the CDC, WHO and local health departments, we are following medical experts as we implement our response.
As part of our heightened protocol, we have enacted the following: New patient appointments will be pre-screened for the coronavirus. Appointment reminders will be sent with messages to reschedule if there are influenza like symptoms. If any patients have coronavirus symptoms, they will be rescheduled. All patients should arrive masked or with a face covering. Masks are available for purchase in the office. Temperatures will be taken.
For everyone's safety, please DO NOT come into the office if you:
are at risk for having been exposed to or have been diagnosed with COVID-19,
share a household or close relationship with someone who has been exposed or diagnosed,
have recently travelled internationally or domestically, or
are not feeling well.
You can now have a VIRTUAL CONSULTATION via Doxy.me with Dr. Janssen, Dr. Doubek, or Amanda Olsen (PA). This encrypted telemedicine system is an easy-to-use online tool that allows you to schedule a HIPAA compliant video call with no download required. Please call the office at 920-233-1540 or email us at info@fvpsurgery.com for instructions on how to proceed. Like an in-office visit, we will usually need your 1) demographics, 2) insurance information (if applicable), 3) area(s) of concern, 4) photos of the area(s) of concern, and 5) complete health history. We're here for you more than ever before.
As a medical facility, we have always been held to a higher standard for sanitization by complying with OSHA and CDC infection control guidelines. While we continue to clean and disinfect rooms between patients as always have, we have implemented enhanced protocols for disinfecting reception, common areas, and bathrooms throughout the day. Magazines and toys have been removed. Self-serve beverages are no longer in the lobby. The make-up bar is closed. We utilize personal protective equipment such as gloves, masks and safety glasses, to keep you and staff safe.
Staff members, who are becoming sick or are sick, are not allowed to work.
Upon check-in, your temperature will be taken. You should arrive masked or with your face covered. Masks are available for purchase if you do not have a mask. Please do your part by sitting 6' away from other patients in the reception area. Although we sanitize writing implements after every use, it is a good practice to use your own pen. Use the wall mounted hand sanitizers by the elevators, stairs and office as you come and go.
With the measures that we have taken, we are comfortable in safely treating our patients. We are working tirelessly to do what is best for everyone who visits and works in our office. We value your business and will continue to safely serve you during this difficult time.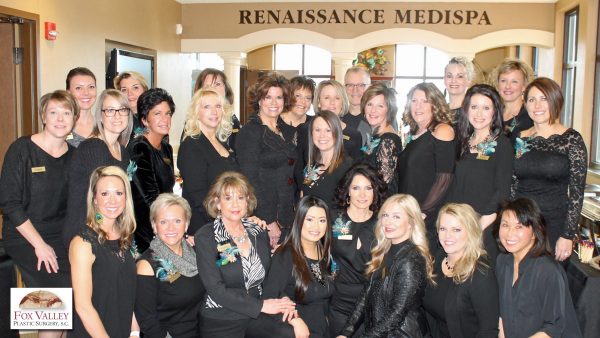 Fox Valley Plastic Surgery SC in Appleton and Oshkosh, Wisconsin offers access to world-class cosmetic procedures provided in an environment that is both personal and professional. We've established a reputation for excellent patient care since opening 25 years ago as the first practice in the region to provide plastic surgery services. Having served over 30,000 patients, the community recognizes Fox Valley Plastic Surgery as the place for reconstructive and cosmetic plastic surgery.
The Renaissance Center in Oshkosh features Renaissance Medispa, a medical day spa offering the most advanced facial rejuvenation and non-surgical procedures available. It also houses The Laser Institute of Wisconsin™, and the state-of-the-art Theda Clark Surgery Center, in addition to Fox Valley Plastic Surgery. The Center's design emulates our belief that cosmetic enhancement at its finest is a blend of science and art. In 2013, we expanded our practice to a second location in Appleton at the Encircle Health building on East Capitol Drive for our plastic surgery and Medispa patients in that area.
Our success is built upon the cornerstones of trust and communication, which we believe are essential to achieving great results in plastic and reconstructive surgery. Our surgeons, providers, and professional staff treat patients with compassion and dignity and do everything possible to ensure your experience is positive. With technology in the forefront and an interest in non-invasive procedures, FVPS has also become the place for non-invasive procedures such as laser treatments, CoolSculpting®, Emsculpt® and Emsella®. We invite you to explore our website for specific information about our staff, facilities, and procedures.