Sylfirm X RF Microneedling
Sylfirm X RF Microneedling
Achieve youthful, radiant and beautiful skin with Sylfirm X, a minimally-invasive, advanced microneedling treatment. It is the world's FIRST and only FDA cleared dual wave RF microneedling device with both ultra-short pulsed wave mode (PW) and a continuous wave (CW) mode. As such, Sylfirm X® is safe and effective on all skin types for a broad range of skin concerns.
Who is a Good Candidate?
The best candidates for Sylfirm X® are healthy nonsmokers with mild to moderate skin laxity, fine lines, stretch marks, acne scars and/or pigmentation concerns.
On the other hand, avoid Sylfirm X® if you:
Are pregnant or breastfeeding
Experiencing active acne, eczema, or psoriasis
Have an unhealed wound in the treatment area
Have very sensitive skin
Are prone to keloids
Are taking Accutane
There are certain medications such as blood thinners or supplements like fish oil that you may need to pause before treatment. In addition, fully disclose all medications and supplements that you take, and do not stop taking medications until we advise you to do so.
The pulsed wave (PW) mode treats:
Vascular pigmentation issues, including rosacea, melasma and solar lentigo
Post-inflammatory hyperpigmentation (PIH)
Acne scars
Stretch marks
The continuous wave (CW) mode treats:
Mild skin laxity
Fine lines and wrinkles
Uneven skin texture
Large pores
Sylfirm X also helps with hair restoration for thinning hair!
View All Videos
How It Works
Sylfirm X uses microneedles and radiofrequency technology to transmit thermal energy deep into the skin. However, the microelectrodes create an electromagnetic field of energy that penetrates the dermal layer of the skin without damaging the tissue. Most importantly, the robotic system administers an accurate amount of energy into the specific depth during the treatment.
Unlike other devices, Sylfirm X reacts to ONLY abnormal blood vessels and tissue to selectively treat increased pigmentation and vascular lesions. Consequently, it is the only RF microneedling device approved to safely treat neovascularity, including hard-to-treat conditions like rosacea and melasma.
In the dermal layer, Sylfirm works in a few different ways:
Softening of the scar tissue: The radiofrequency energy of Sylfirm X breaks down the cellular and fibrous bands of scar tissue. In this way, it softens the acne scars and helps in their resolution.
Induce collagen and elastin production: The abnormal production of collagen produces acne scars. Sylfirm X rejuvenates and stimulates fibroblast cells to produce collagen and elastin. Subsequently, these proteins not only fill the deficient areas of the scar tissue, but also provide strength, tone, and elasticity to the skin.
Promote tissue recovery: Sylfirm X also causes the production of new cells; therefore, it plays a role in the recovery of damaged tissues.
Shrinkage of abnormal blood vessels: The formation of abnormal blood vessels gives acne scars a reddish discoloration. To counteract this, Sylfirm X shrinks down these abnormal blood vessels, and gives a clear appearance to the skin.
Stimulate and repair basement membranes: Basement membrane is present between the epidermis and dermis. Its integrity is crucial for skin health as it acts as an anchor and a barrier, and is responsible for homeostasis, tissue development, and repair. Sylfirm X repairs the dysregulated basement membranes and restores skin health.
Reduce the secretions of oil glands: In the majority of cases, acne is formed by the production of excessive sebum and oily secretions by the skin glands. These secretions block the skin pores resulting in acne. However, Sylfirm X reduces the secretions of the oily glands and helps relieve this skin condition.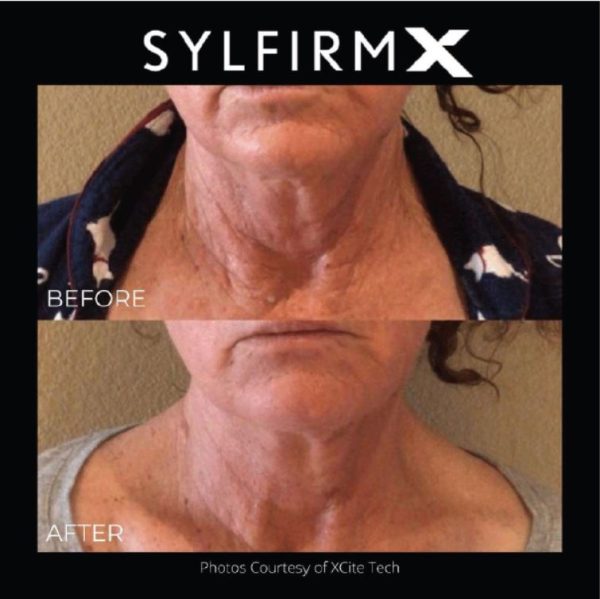 What to Expect During a Sylfirm X Treatment
The actual microneedling portion of Sylfirm treatments typically take one hour, depending on the size and number of treatment areas. In addition, you will need extra time for patient paperwork, numbing, photos, etc.
First, the provider will apply a numbing cream, which takes 30 minutes to take effect. Once the skin is numb, the provider will start the procedure by moving the tip of the Sylfirm X handpiece across the skin.
During this, you may feel some pressure, a warm, tingling sensation, and a mild prickling sensation when the microneedles are rapidly inserted and removed from the surface of the skin.
With adequate numbing, many patients find this bearable. Then after the microneedling session, we will apply exosomes or a similar product to enhance the results, soothe your skin, and speed up recovery time.
Recovery
After a Sylfirm X treatment, your skin may feel tight and inflamed depending on the area treated and the device settings. Although your skin may look pink like a mild sunburn, you should be able to go on with your daily routine. Expect more redness from a treatment for rosacea than a treatment for melasma. Similarly, expect a sticky sensation from treatment for acne scars. The neck will have more redness than the face for skin tightening. We strongly recommend Alastin™ Regenerating Skin Nectar or (plated)™ Skin Science Calm Serum, which calms post-procedure skin and helps reduce recovery time, in the first week of recovery.
If you want to see significant results, we recommend a series of treatments spaced four to six weeks apart for the average patient. Melasma and rosacea patients can space treatments every three weeks. Very rarely does a patient require one session and is done. Sylfirm X recommends that some patients may need up to six sessions.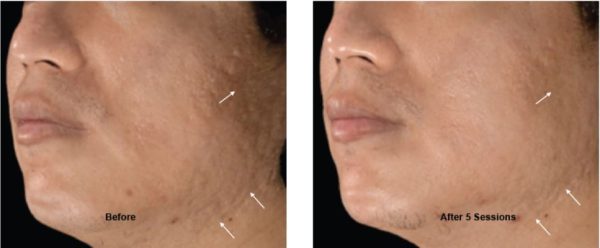 Results
Results from Sylfirm X are visible fairly quickly. Within the first few weeks after treatment, you may report an improvement in skin quality such as less fine lines and enlarged pores. About a month after treatment, you will see a reduction in acne scars. Pigmentation concerns take two months to see progress.
Issues that are improved by collagen production, like skin tightening, will take closer to 3 months to see results.
In the case of melasma/ hyperpigmentation, according to clinical studies, you can expect to see 20-30% reduction of pigmentation in just one session.
For open pores, according to clinical studies, you can expect about 20 – 25% reduction in pore sizes in just one session.
Side Effects
The Sylfirm X device has undergone more than 25 clinical studies to show its efficacy and safety. Most patients experience minimal to no side effects.
However, you may have:
Skin sensitivity
Tight sensation
Swelling for the first day or two post-treatment
In order to aid recovery and alleviate some of these side effects, we recommend a gentle cleanser, skipping makeup, and avoiding skincare products with active ingredients like retinoids, AHAs and BHAs.
After treatment, your skin will also be especially sensitive to the sun. Therefore it is important to use broad-spectrum mineral sunscreen with an SPF of at least 30. This will also help to maximize and prolong your results. Colorescience® mineral sunscreens deliver non-chemical sunscreen protection and will not clog your pores as your skin is healing.
How Long Do Results Last?
You can expect to see significant improvements in 3 sessions. While most people can expect to see the benefits for a year, some may even see improvement for up to two years. After initial treatments, annual maintenance sessions are recommended because skin continues to age. Sylfirm X turns back the biological clock of your skin. However, your behavior such as diet, sun exposure, skincare regimen, sleep and stress, determines how long your results last.
Pricing
Ask you about our introductory special with (plated)™ Skin Science Calm Serum in August or while supplies last.
This is a non-invasive procedure with low downtime. Although you may see immediate results, you will need more than one treatment to achieve results. Therefore, Sylfirm is normally sold in packages of three treatments. No additional discounts apply to the packages. Pricing is as follows with $250 savings with a package of three.
Try combining this procedure with a discounted BBL® or a Moxi™ laser treatment for a synergistic effect. Our medical aestheticians can advise you on the best treatment course for your skin care concerns. There is a $250 non-refundable room charge to hold an appointment if the package has not yet been purchased. There are so many options that you need to schedule a consultation to determine how to optimize your results.
Consultation Info
Although this treatment is highly effective, it may not meet your expectations if you truly need a surgical solution. Therefore, we highly recommend a consultation with one of our medical aestheticians to assess your skin and your expectations. We have many methods to address your concerns depending on your budget, your downtime, and your sense of urgency. Please call 920-233-1540 or email us for your consultation.