MOXI™ Laser Treatments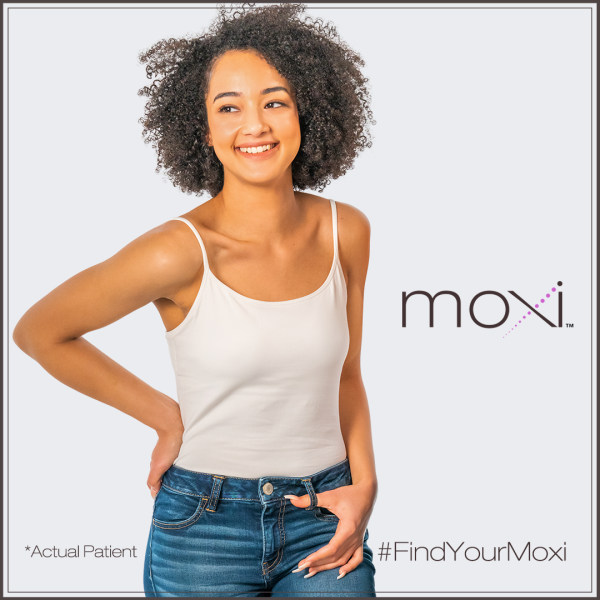 No matter their age or skin type, everyone can benefit from laser resurfacing skincare. MOXI™ was designed for men and women of all ages, and was created out of demand for better preventative skincare treatments.

The idea of "pre-juvenation" is perfect for those just starting their skincare journey, looking for a light touch up, or those wanting something more but without downtime. With MOXI, you can lighten, brighten and refresh!
How Does the MOXI Work?
You may be familiar with our Halo™ hybrid fractional laser, and MOXI is often considered a precursor to the Halo because it is a gentle, yet effective, laser resurfacing option for patients looking for less downtime.

MOXI uses a fractionated 1927 nm wavelength that leaves patients glowing and comfortably delivers non-ablative laser energy to revitalize skin by correcting the initial signs of sun damage and aging, no matter the season or skin type and without any social downtime.

Combined with our BBL® Hero™ and properly implemented post-care that our aestheticians will guide you through, MOXI can produce an amazing, youthful flow in patients all year long.

MOXI can treat all skin types on the face and body including:
Neck
Chest
Hands
Arms
Legs
Face

What Does the MOXI Treat?
The MOXI focuses on pre-juvenation and overall skin quality, but it absolutely can be used to address specific conditions such as:
Pigmentation & Sun Damage: Moxi is precisely tunable in the superficial layer of the epidermis and dermis for comfortable treatments for superficial sun damage.
Uneven Skin Tone: MOXI's gentle treatment approach promotes vibrant, refreshed-looking skin for patients struggling with uneven skin tone.
Texture: A MOXI treatment creates micro-coagulation zones, including the body's natural wound-healing process to promote collagen production in the treatment area and reduce areas of rough or uneven texture.
Signs of Aging: Patients who are seeking to either reduce skin concerns or prolong the appearance of the signs can integrate MOXI treatments into their regimen and long-term skincare plan.
Everyone's skin is different, and everyone's needs are different, which is why a custom approach is so important. When you become a patient at Fox Valley Plastic Surgery, you will get a laser skin evaluation using our VISIA® machine so that our team can customize a plan for your skin and your goals. You can request your complimentary laser skin evaluation here or you can call our office at (920) 233-1540 to schedule your appointment.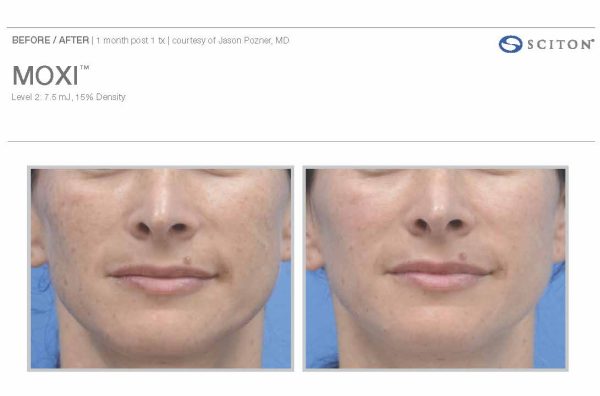 Best Candidates
The ideal MOXI patient is anyone looking to lighten, brighten and refresh their skin. Moxi can treat all skin types. It is truly designed with everyone in mind, and is ideal for patients just starting their skincare journey, looking for a light touch-up, and those wanting something more. Because it is gentle and requires no anesthetic, providers have called it the "perfect lunchtime facial."
Patients who have used Accutane in the past year or who have cold sores or other open sores on area of treatment are not candidates for immediate treatment. Patients must be off Accutane or one of its generic forms at least 6 months to a year.
Chemotherapy and radiation treatments can make the skin very dry, thin and vulnerable due to the rapid dying of cell tissue. During and up to one year after completing all oncology medical treatments, only gentle hydrating and restorative treatments can be performed on the skin surface. This would disqualify almost all the services of the Renaissance Medispa and the Laser Institute of Wisconsin™. If you have concerns, please address them with your medical provider. It is always best to err on the side of caution in treating compromised skin.
View All Videos
What You Can Expect in a MOXI Treatment
A MOXI treatment at Fox Valley Plastic Surgery can keep your skin refreshed, revitalized and maintained after just one treatment.

Because it uses a non-ablative, fractionated wavelength, MOXI delivers dramatic tonal and textural improvements to your face with little to no downtime, as it features a gentle laser that corrects pigmentation issues.

At your complimentary consultation, you will get a personalized treatment plan, including the number of sessions, configuration and complementary treatments, to meet your lifestyle needs and to properly address your skin concerns.

Once a topical numbing cream sets, we will configure MOXI to the settings best suited to achieve your ideal results. As the MOXI laser glides across the skin, you may feel a slight warming sensation, which means the laser is doing its job.
The treatment itself creates micro-coagulation zones in the skin; the body naturally repairs these zones and replaces the damaged cells with new ones.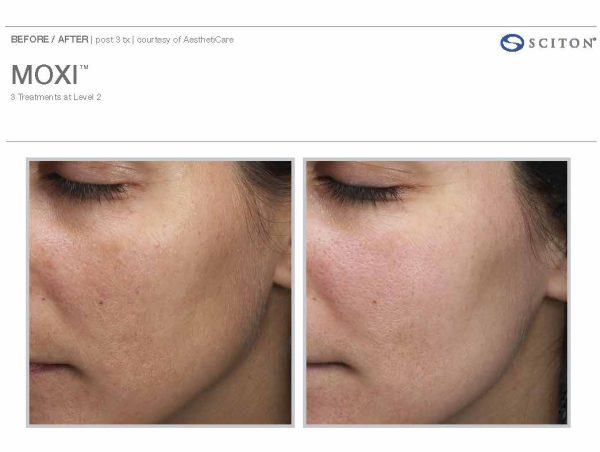 Frequently Asked Questions About MOXI Treatments:
How long do MOXI treatments take?
The MOXI comfortably delivers non-ablative laser energy to revitalize your skin-all within the span of a typical lunch break. The treatment time ranges from 15-90 minutes, depending on your custom skin treatment plan.
How many MOXI treatments will I need?
This will depend on your treatment goals and the level of correction desired. Most patients receive 3 to 4 corrective MOXI treatments, then often elect for regular maintenance treatments.
Is any anesthetic needed?
Differing levels of treatment may affect the sensations you feel during treatment, but most patients find the MOXI treatment experience very tolerable. Because MOXI is so gentle, only topical anesthetic is needed and will minimize discomfort. Simply put, this is one of the most gentle, low-pain laser treatments on the market.
How long is the downtime for MOXI?
The downtime is only 2-8 hours of staying out of the sun after treatment. MOXI revitalizes the skin without breaking the surface, and therefore the post-care regimen is simple: wear a moisturizing physical sunscreen and stay out of the sun. You may apply makeup 24 hours after your treatment.

When will I see results from the MOXI treatment?
Results will vary depending on your treatment goals and the plan you set forth with our aestheticians. For the day following your treatment, your skin may appear red and, depending on your level of treatment, you may see small micro dots called "mendz" where the laser was applied. As the micro zones heal, they will darken and feel rough. Between days 3 and 5, the mends will slough off and reveal the renewed skin beneath. Most patients see noticeable results in just 4-5 days post-treatment.
Does MOXI work on darker skin tones?
Yes! Since the MOXI laser isn't as strong or invasive as its counterparts, it lessens the risk of hyper or hypopigmentation after treatment. Of course, if you ever have specific questions or concerns based on your skin tone, your provider will have all the training and experience to answer your additional questions.
How Much Does a MOXI Treatment Cost?
One treatment of Moxi for the face costs $600. For best results, a series of 3 treatments costs $1500 and can be banked for future use. Moxi for the face, neck, and décolleté costs $750 per treatment. A package of 3 treatments costing $1900 yields the best results.
Consultation
At your free personal laser consultation, you will get a customized treatment plan that is tailored to your issues, skin type, goals and budget. With the high resolution photos from the Visia system, we will be able to measure the effectiveness of the laser treatment. Find out which laser treatment would be right for you by requesting your consultation online or calling the office at (920) 233-1540 to set up your appointment.