Laser Institute of Wisconsin™
Laser Institute of Wisconsin™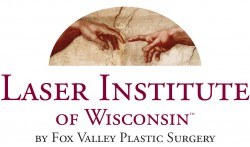 What would you like to change about your appearance? What would make you happier? A clearer complexion? Tighter skin? Flatter tummy? All this and more can be accomplished without surgery using our non-invasive laser skin care technologies. The Laser Institute of Wisconsin™ by Fox Valley Plastic Surgery in Oshkosh, under the expert care of our plastic surgeons and staff, utilizes the latest technologies to get you refined and loving what you see.
We invite you to experience your personal renaissance from our laser skin care specialists serving Green Bay, Appleton, Menasha, Oshkosh and Fond du Lac. Call (920) 233-1540 today to request your complimentary consultation.
Since its inception in 1996, Fox Valley Plastic Surgery has grown and expanded into areas that were not technologically possible when the practice started. We have many patients who have requested less invasive and non-surgical solutions for their concerns. The growth in this area has led FVPS to showcase these non-surgical procedures as the Laser Institute of Wisconsin™. While we are named the Laser Institute of Wisconsin™, we are not solely confined to laser technologies. We also utilize radio frequency, cooling, thermo-coagulation, and other types of technologies. Depending on your desired outcome, we will present to you our recommendation of the best technology for your area of concern.
The Laser Institute of Wisconsin™ by Fox Valley Plastic Surgery helps patients on a daily basis with laser and light-based technology. We have seen an increase in damaged skin from the sun and other environmental factors. Our staff, with advanced laser training, provides a VISIA® skin care analysis to create a treatment plan customized to address your specific facial issues. There is also a trend in patients desiring assistance for skin tightening and body contouring. While there are many products on the market, we only use what is proven and safe.
We invite you to explore our services in more detail using the links to the left, or visit our offices at 2400 Witzel Avenue in Oshkosh or 2500 E. Capitol Drive in Appleton.