Sculptra® Aesthetic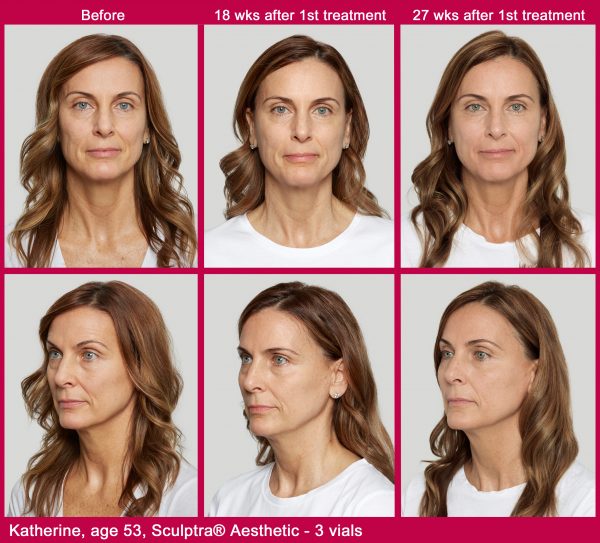 As we age, we lose collagen, which acts as the skin's support structure, and helps maintain its shape. In fact, 70% of the skin is composed as collagen, and collagen loss causes the skin to lose its elasticity and moisture. A common misconception about facial aging involves the role of gravity. The real culprit is deflation (loss of volume and structure) rather than descent (drooping or sagging).
Collagen Explained
Collagen is a strong, flexible fibrous type of protein that is found throughout our bodies, including our bones, muscles, tendons and in the middle or dermis layer of the skin. It acts as skin's support structure or scaffolding that helps maintain skin's shape. As we age, our body's collagen production decreases. Gradually, skin loses its youthful bounce, leading to lines, wrinkles, and folds, as well as a loss of skin volume and support.
Think of collagen like springs in a mattress. Over time, the springs weaken and the mattress on top starts to sag and crease. Similar changes in our skin happen as a result of both natural aging and sun exposure.

We naturally lose about one percent of collagen per year after the age of 18. And by age 50, we can lose up to 30 percent of our collagen. Over time, our face loses collagen, fat, muscle and bone. This leads to a flatter face, hollowing under the cheek bones, sunken temples, jowls and a sinking jaw line. Look at a picture of yourself from your 20's and 30's. Note the more rounded face, filled temples and smooth angular jaw line. Sculptra is meant to restore that facial volume bringing youth to the facial features. Here is an excellent visual explanation of facial aging and the roll that fillers can play in restoring your appearance.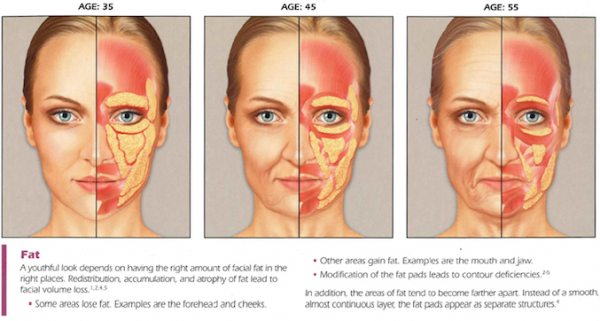 Benefits of Sculptra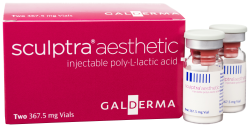 The good news is that it's possible to help boost the skin's own natural collagen production. Sculptra® Aesthetic is the only FDA-approved facial injectable treatment on the market that helps boost the skin's own natural collagen production to help treat the underlying cause of aging – the loss of collagen. In doing so, it subtly and gradually adds volume that lifts the soft tissues and plumps the skin from within.
Restores Facial Volume and Provides Support to the skin to improve the look of smile lines (called nasolabial folds), marionette lines, pre-auricular wrinkles (the vertical wrinkles in front of the ears), radial cheek folds (vertical wrinkles on the lower cheek) and chin wrinkles.
Provides Gradual and Natural-Looking Results that become visible over a period of a few months.
Long-Lasting:  Lasts more than two years.
How Does It Work?
Once injected Sculptra Aesthetic works deep within the skin's surface, and is gradually and naturally absorbed by the body to help stimulate collagen production to reinforce skin's inner structure and increase facial volume.
How is Sculptra Different From Other Fillers?
Unlike traditional hyaluronic acid (HA) fillers, which work immediately upon injection to fill in lines, wrinkles and folds, Sculptra Aesthetic is made from Poly-L-lactic acid (PLLA), which helps stimulate your skin's own natural collagen production over time, helping to reinforce skin's inner structure and increase facial volume that has been lost to aging. PLLA is a biodegradable substance that has been proven safe and has been used in medical products, including dissolvable sutures, for more than 30 years. It contains no animal by-products or human DNA.
The typical treatment regimen for Sculptra Aesthetic consists of three injections over three to four months. Results appear gradually over a period of a few months, and are long-lasting, more than two years. In contrast, HA fillers last until the HA is absorbed by the body and excreted (typically 6 to 12 months after injection).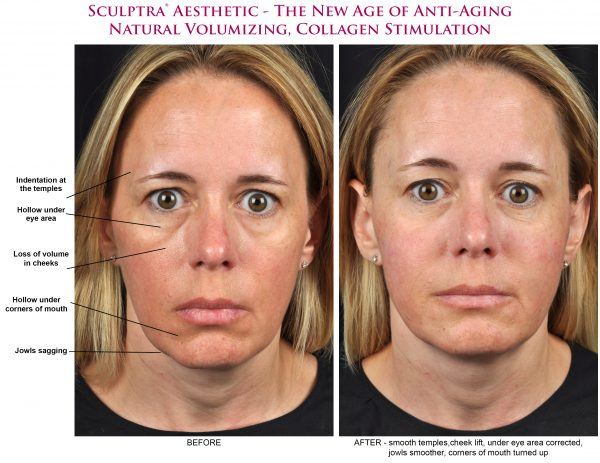 Best Candidates
If you want to appear more youthful-looking — without appearing like you've had work done — then chances are Sculptra Aesthetic may be a good choice for you. Neurotoxins such as Dysport®, Jeuveau® and Botox® can provide dramatic results in reducing lines. Restylane® hyaluronic fillers also reverse the signs of aging by filling in deep folders to take years off your face while still looking natural. However, neurotoxins and fillers are sometimes not enough. Through weight loss, aging, or other factors, some people lack the structure, support, and volume in their face that's necessary for fillers to make a desired difference in their appearance. These patients need a "framework" to which hyaluronic acid fillers can be layered on top. Men and women of any age can have success with Sculptra if they are concerned with hollowness and/or loss of volume.
How Many Treatments Will I Need?
On average, a series of three treatment sessions over the course of a few months may be needed. The number of injections at each session will vary, depending on the degree of correction needed and the treatment plan determined by you and your specialist. A maximum of 2 vials can be injected per treatment, so expect to come in for at least 2 treatments, with 6 weeks between each treatment.
Since the product triggers your body to build its own collagen, results are not immediate and can take anywhere from 4-6 months. Changes can continue through the 9th month to realize the full results.
How Much Does Sculptra Cost?
A single vial of Sculptra costs $700 each. The general rule of thumb for Sculptra is one vial per decade of life. If you are in your 60's, you will most likely need 6 vials. There are exceptions to this rule depending upon volume loss. There are discounts for additional vials and discounted sales packages. A complimentary Medispa consultation is required to determine if you are a good candidate for treatment and how many vials are recommended.
Make every Sculptra Aesthetic treatment count by joining Aspire Galderma Rewards. Sign up for your free membership and receive an instant $20 treatment certificate.

View All Videos
Pre Treatment Instructions
Avoid using aspirin, nonsteroidal anti-inflammatory medications (such as ibuprofen), St. John's wort or high doses of vitamin E supplements. These agents may increase bruising and bleeding at the injection site.
Tell us if you have previously suffered from facial cold sores. We may prescribe a medication to minimize recurrence.
In order to get the best results from Sculptra, we strongly recommend the purchase of Alastin® TriHex Transition Duo $245 to prep your face for the procedure, support healing, and maintain the outcome. It is available at a 20% discount with a Sculptra purchase. The TriHex Transition Duo includes a full-size Regenerating Skin Nectar® for use pre- and post-procedure and a transition-size Restorative Skin Complex for ongoing skin maintenance, in an easy-to-use Duo pack. Both products leverage ALASTIN's breakthrough TriHex Technology® which maximizes the skin's natural ability to repair itself and to produce new collagen and elastin both before and after anti-aging treatments.
Post Treatment Instructions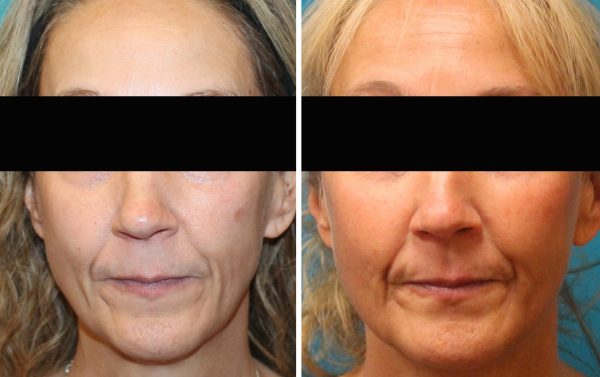 Technically, there is no actual downtime. It is an out-patient treatment that takes less than an hour to perform. Patients can resume their normal day activities. Like dermal fillers, there may be some swelling at the injection sites which will generally resolve within a week. Mild to moderate bruising, tenderness, itching, and redness are other common side-effects. Do not get a facial or massage for 2 weeks after your filler procedure. Avoid strenuous workouts and alcohol for 24 hours if possible.
Massage the treated areas 5 times a day for about 5 minutes for 5 days after treatment to distribute solution and help prevent nodule formation. This may be uncomfortable and even painful for the first few days, but it is necessary. The easiest time to massage is when the face is moistened with cleanser or moisturizer.
Hold ice packs on the treated areas gently for about 3-5 minutes a few times that day.
Makeup can be worn a few hours after.
A few days after treatment, you will look as you did before treatment. This is normal because Sculptra will replace lost collagen over time. The improvement comes slowly and gradually as collagen is being rebuilt.
A possible side effect can be the delayed appearance of tiny nodules under the skin up to 12 months after treatment. They are palpable, but not visible. The development can be minimized by following the post treatment massage instructions.

Real Patient Story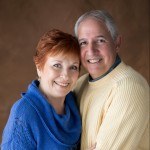 Read about Julie's experience with the Medispa and other real patient stories in the Real Patient Stories section of our website. Julie's interest in the Medispa started simply with eyelash tinting. With a Visia skin complexion analysis, Julie was able to see where and how she could improve. Her husband and we agree she looks radiant.

Important Safety Information
Sculptra Aesthetic is indicated for use in people with healthy immune systems. It should not be used by people that are allergic to any ingredient of the product or have a history of keloid formation or hypertrophic scarring. Safety has not been established in patients who are pregnant, lactating, breastfeeding, or under 18 years of age.
The most common side effects after initial treatment include injection site swelling, tenderness, redness, pain, bruising, bleeding, itching and lumps. Other side effects may include small lumps under the skin that are sometimes noticeable when pressing on the treated area. Larger lumps, some with delayed onset with or without inflammation or skin discoloration, have also been reported. Most side effects are resolved within a week. Complete safety information is located here.
A great deal of artistry, skill, and attention to detail are required when working with the subtleties of Sculptra. The skilled injectors at the Renaissance Medispa assure you results and safety you would expect from cosmetic and aesthetic healthcare professionals. Their expertise is helping women and men from places such as Milwaukee, Appleton, Green Bay and Marquette perfect their personal Renaissance. Schedule your Sculptra consultation today by calling (920) 233-1540.