Halo™ Laser Treatments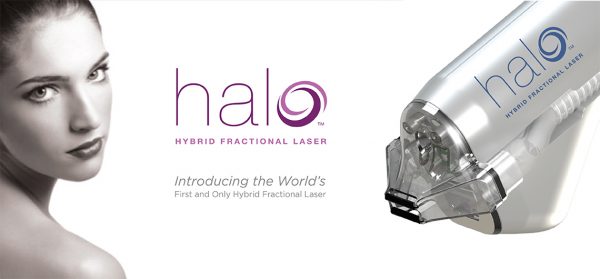 Over time, your skin can lose its youthful glow due to sun exposure and your body's natural aging process. As a result, your body may develop sun spots, fine lines, and lose that natural healthy glow. The Halo hybrid fractional laser can restore your luminous glow. It combines ablative and non-ablative wavelengths delivered to the same microscopic treatment zone to maximize clinical results and minimize downtimes. As the provider rolls the Halo hand piece over the skin, one laser targets the top layer while the other targets the bottom layer. Halo is safe and effective, while providing an enhanced patient experience.
Get that Glow with Halo:
Customizable treatment to precisely target skin damage
Improvement in the appearance of tone, texture, fine lines* and wrinkles
Reduces pore size and increases reflectivity and glow
Flexibility in treatment levels and downtime
*only with Halo Hybrid Treatments
View All Videos
Customizable Treatment Options
Everyone's skin is different. Everyone's needs are different. Halo allows us to customize your treatment to fit your lifestyle. Need to be back at work tomorrow? A light treatment creates smooth, vibrant skin that's ready for makeup the next day. Want to WOW them? A more intense treatment will give your skin that youthful glow with just a few days of downtime. Halo combines deep dermal rejuvenation with epidermal renewal for a combined synergistic effect you can't get with any other treatment. Halo creates beautiful results without the downtime of more aggressive treatments. View the Halo Brochure.
Halo precisely targets years of damage to your skin, including:
Discoloration
Sun damage
Visible signs of aging
Uneven skin tone
Enlarged pores
Poor texture
Fine lines*
Scar revision*
*only with Halo Hybrid Treatments
HALO can treat most skin types, on face and body. Popular off-face treatments include: neck, chest, arms, hands, legs and scarring.
You can find out how to get the skin you want when you request your laser skin evaluation at Fox Valley Plastic Surgery. You can also call our office at (920) 233-1540 to schedule your appointment.
Best Candidates
A good candidate for a Halo laser treatment is an individual with acne scars, discolored spots, wrinkles, or other skin conditions on almost any part of the body. One treatment provides noticeable results for most patients, but multiple sessions will provide the best results for those with deep scarring and more severe skin conditions. Patients who have used Accutane in the past year or who have cold sores or other open sores on area of treatment are not candidates for immediate treatment. Patients must be off Accutane or one of its generic forms at least 6 months to a year.
Chemotherapy and radiation treatments can make the skin very dry, thin and vulnerable due to the rapid dying of cell tissue. During and up to one year after completing all oncology medical treatments, the skin surface can only tolerate gentle hydrating and restorative treatments. This would disqualify almost all the services of the Renaissance Medispa and the Laser Institute of Wisconsin™. If you have concerns, please address them with your medical provider. It is always best to err on the side of caution in treating compromised skin.
Preparing for the Procedure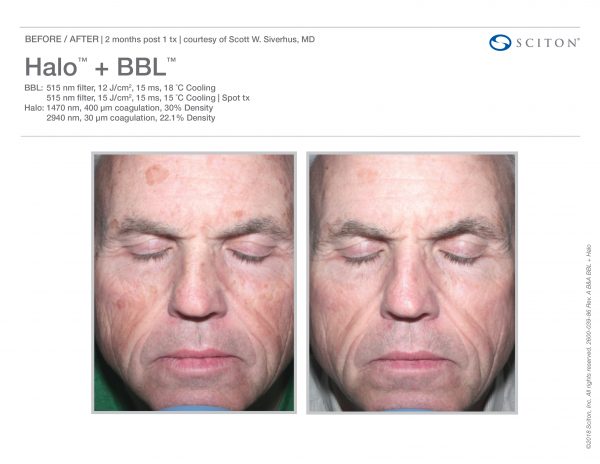 For deeper treatments, we need to condition your skin with the proper skin care products for three weeks prior to the treatment. Stop using retinoids and acid treatments 3 days prior. Avoid sun tanning and tanning beds for 1 month before and after each session. Patients with a history of fever blisters or cold sores may elect to take Valtrex.
In order to get the best results from a Halo treatment, we strongly recommend the purchase of Alastin® TriHex Transition Duo $245 to prep your face for the procedure, support healing, and maintain the outcome. It is available at a 20% discount with a Halo purchase. The TriHex Transition Duo includes a full-size Regenerating Skin Nectar® for use pre- and post-procedure and a transition-size Restorative Skin Complex for ongoing skin maintenance, in an easy-to-use Duo pack. Both products leverage ALASTIN's breakthrough TriHex Technology® which maximizes the skin's natural ability to repair itself and to produce new collagen and elastin both before and after anti-aging treatments.
Procedure
We will clean the skin in the treatment area, and the eyes will be protected with safety shields. There should be minimal discomfort, however this varies from patient to patient and depends on the depth of the treatment. The forced air cooling device along with numbing cream will aid in comfort during the procedure. Furthermore, you may need pain medication for more aggressive treatments. The technician will position the laser hand piece above the skin, and will hold it in place as the computer-guided scanner moves the laser beam around the treatment area.
The treatment involves precise removal of small columns of skin at the depth determined by the technician. Pinpoint bleeding may occur. Patients often describe a slight stinging sensation, like the snapping of a rubber band, in the treated areas. Most individuals find this to be very tolerable. Total time spent in the office will vary depending on the area treated and patient response.
Results

Within weeks, the treated skin will feel smoother, fine wrinkles and pores will be less noticeable, and sun spots or uneven pigmentation will fade. Results depend on the patient's condition, the number of treatments, and the area treated. There will be continued improvement for up to 6 months as the collagen remodels and rebuilds.
This laser can be adjusted for a few deep treatments with more downtime or multiple lighter treatments with less downtime. Treatments are typically done in a series of one to three treatments spaced four to eight weeks apart, depending on patient needs and response to treatments. A free personal laser consultation is the only way to determine the best laser treatment for your skin care concerns.
Real Patient Experiences
Patient Testimonials

"My skin now feels like it did back in high school. It is so smooth and luminous and I feel like I can't see the pores on my face anymore. I've never felt and looked better." – Clayton: Crystal Bay, NV

"The best part of my Halo treatment was how easy it was! I have done a few laser and light treatments in the past, but nothing came close. To be able to have a treatment with minimal discomfort, be able to go out the next day and still get results was amazing!" – Gina: Incline Village, CA

"Over the years, I have always worried about how much damage I've done to my skin. My freckles turned into brown spots and my pores were large. Halo not only made my skin feel and look amazing but it also reversed the internal sun damage. Halo hit the spot!" – Maria: San Jose, CA
FAQ's
What results can I expect?
Halo is a complete skin rejuvenation treatment. You will see improvements in overall tone and texture in addition to significant removal of discoloration, reduction in fine lines*, reduced pore size, skin reflectivity and glow.
How many treatments do I need?
Discuss with us your needs. You can choose to have one or two more aggressive treatments or have multiple treatments that are less aggressive and achieve a similar goal over a longer period of time.
What happens during the treatment?
Thirty minutes before the treatment a topical anesthetic may be placed on your skin to reduce the sensation during the procedure. The area will be measured with motion tracking technology to ensure the area is treated evenly. We will treat each measured section by uniformly rolling the Halo hand piece over the skin until the system recognizes the treatment is complete.


What does Halo feel like?
With a topical anesthetic and integrated cooling technology, most patients experience very little discomfort. Most patients describe the treatment as a feeling of heat with occasional prickling sensations, but are generally comfortable. After the treatment, most patients will have a sunburn type feeling for approximately 2 hours, and a sunburn type appearance for a few days. There may be some pinpoint bleeding. This is dependent on the level of the Halo treatment.
FAQ's
How soon after my treatment can I return to normal activities?
For the first 24 hours you should keep your skin protected according to our instructions, but after that you should be able to go about your normal activities. Social downtime varies. Most patients will be able to be in public with a bit of concealer on the first day. The peeling of the MENDS (microscopic epidermal necrotic debris that creates a bronzing effect) will typically occur at day 2 ½ to day 3.
When will I see results?
You will see initial results between two and five days after your Halo treatment, but your skin will continue to improve over time. Most patients see the greatest pigmentary improvement in the first two to three weeks. This is followed by a dermal regeneration phase that continues to improve for months.


How long will my results last?
The Halo results will last for years, but you should continue to keep your skin protected at all times using UV sunscreen to protect your new, healthy skin. Each additional Halo treatment you get will only improve the results, giving you even better-looking skin.
Pricing
Every Halo treatment is customized for your skin and your lifestyle. Generally, one Halo treatment costs $1500 for the face, and $2100 for the face, neck, and décolleté.  A package of 2 for the face costs $2500, while a package of 3 for the face costs $3500. A package of 2 for the face, neck and décolleté costs $3500, while a package of 3 costs $4900. Depending on your needs, we may recommend a single treatment, or a series of treatments. Treatments in a package can be banked for future use. In order to find out which is the best option for you, please call us for a consultation.
View the Halo Brochure.
Real Patient Story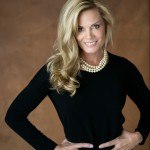 Read about Stacy's experience with the Medispa and other real patient stories in the Real Patient Stories section of our website. Even with her busy career and active lifestyle, Stacy still finds time to take care of her skin at the Renaissance Medispa. By making her skin treatments a priority in her life, Stacy defies aging. Heads turn when Stacy walks in the room.

Recovery
The healing process varies from patient to patient, but will generally take from two to seven days. There may be minor sloughing and itchiness on the following day. By day two, redness will begin to fade. On the third day, any redness can be easily covered by makeup. This time frame varies based on the depth of the treatment.
After the procedure, patients will be given an ointment to sooth any discomfort. Cold compresses are also recommended to reduce redness and swelling. Sunblock and makeup should be avoided for at least 3 days or until they can be applied without causing discomfort. After the initial healing phase, it is recommended that patients apply sunscreen to the area of treatment for the first few months to protect the skin and ensure the best results possible.
When the skin heals in 3-4 days in superficial skin resurfacing treatments, patients notice an obvious improvement in tone, texture and color evenness. The deep skin resurfacing treatments have the longest downtime of 7 days, but produces the most noticeable improvements in skin texture, tone and wrinkle appearance. The deeper laser treatments also stimulate the growth of new collagen over the next 4 to 6 months. During this time, the skin may show increasing improvements in tightness and resilience.
Physician Testimonials
"With Halo, I can achieve results which I would have only expected from an ablative fractional laser, but get downtimes that I would normally see with a non-ablative fractional laser. It really is the best of both worlds." – Jason Pozner, MD, FACS, Plastic Surgeon, Founder and Co-owner of Sanctuary Medical Center in Florida

"Halo changes the paradigm. The unique dual wavelength delivers an unprecedented ability to customize treatments for each individual. Every patient has different needs in terms of sun damage and downtime. With Halo, I can finally have the best of both non-ablative and ablative wavelengths. I can precisely dial in the exact treatment patients need for amazing results within the desired downtime." – Chris W. Robb, MD, PhD, Dermatologist, Co-founder of Skin & Allergy Center in Tennessee
Consultation
At your free personal laser consultation, you will get a customized treatment plan that is tailored to your issues, skin type, goals, and budget. With the high resolution photos from the Visia system, we will be able to measure the effectiveness of the laser treatment. Find out which laser treatment would be right for you by requesting your consultation online or calling the office at (920) 233-1540 to set up your appointment.