Pre-Pectoral Conversion
Five years ago, almost all breast reconstruction was done with the implants placed under the pectoral muscle (right image). This is called sub-pectoral placement. Sub-pectoral implant placement has been the gold standard for implant-based breast reconstruction for over 5 decades. Placing the implants on top of the muscle, called pre-pectoral placement (left image), was not usually possible due to poor skin quality.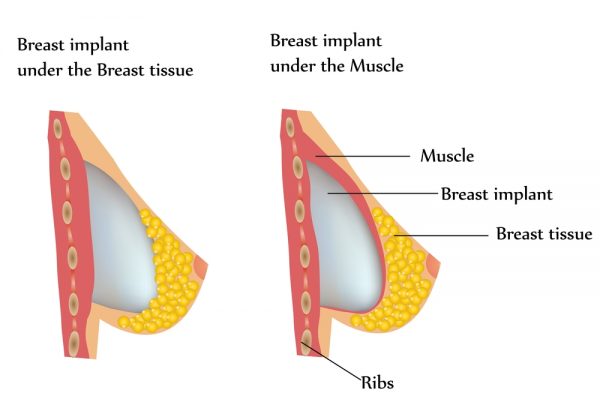 Significant disadvantages of sub-pectoral breast reconstruction procedures are animation deformity, tightness, functional limitations on the shoulder, and problems with implanted distortion. Patients were frequently perturbed by the physical appearance and discomfort of the deformity. Previous attempts to correct some of these aesthetic issues with fat grafting had been met with mixed and often disappointing results, whereas their impact on functional problems had been negligible.
With the advent of Alloderm™ Regenerative Tissue Matrix, implants can now be placed in the pre-pectoral plane with total anterior coverage. Performing immediate and delayed reconstruction in the pre-pectoral space eliminates many complications associated with sub-pectoral implant positioning. Numerous articles attest to the enhanced aesthetic outcomes in terms of cleavage formation, and complete elimination of animation deformity, improved long-term comfort and reduced postoperative pain.
In a study of 142 breasts in 90 patients who had underwent elective sub-pectoral to pre-pectoral implant site conversion, postoperative resolution of animation deformity was 100%. Overall, complications are minimal with rates at 4.2% for infection, 2.1% for seroma, and 0.7% for hematoma, dehiscence, partial thickness necrosis, and explantation.
With this success rate, we have migrated to a prepectoral approach for breast reconstruction. Our results are similar. There was a dramatic improvement in aesthetic outcome, with particular reference to reduction in animation deformity, improved cleavage formation and postoperative comfort with enhanced shoulder range of motion.
Former breast reconstruction patients who have ongoing issues with pain or deformity may eligible for breast implant conversion from under the muscle to on top of the muscle. This may be covered by health insurance. Our patients, who have converted, feel much better and are happier with the appearance of their breasts. Learn about a patient's experience with this surgery in this implant replacement video with Dr. Doubek. It needs to be watched on YouTube.
Dr. David Janssen and Dr. William Doubek are experts in breast reconstruction. The Wisconsin plastic surgeons are helping women from places such as Green Bay, Appleton, Fond du Lac, and Sheboygan to take control and regain their lives after breast cancer. To learn more about your breast reconstruction options, request your consultation in either the Oshkosh or Appleton office using our online form or contact us at (920) 233-1540.
Pink Perfect Prosthetic Nipples
Not everyone is a candidate for a nipple tattoo or a reconstructed nipple. For these patients, Pink-Perfect offers realistic silicone nipples in 9 stock colors and 3 projections. Custom nipples are also offered if the nipple needs to be matched.
They look and feel amazing. We have samples in our office. Our patients and doctors love this product and get no compensation for referrals. Use code FOX25 to get $25 off your online order. Your insurance company may cover the cost of this prosthesis, but you need to personally file the claim. Our office can give our patients a prescription to cover the medical necessity of this product.
Patients deserve to feel whole again. Contact Fox Valley Plastic Surgery at (920) 233-1540 or request your consultation online.  Our patients in Green Bay, Sheboygan, Appleton, Neenah, Oshkosh, Fond du Lac, and Westbend tell us breast reconstruction helps restore their body image and is an important part of their overall recuperation from breast cancer.  These options can be discussed immediately after diagnosis of breast cancer with one of our board certified plastic surgeons, who will work closely with your general surgeon.