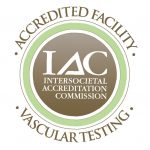 The public is finally recognizing that chronic venous insufficiency is a real problem that gets progressively worse if untreated. They are searching for vein procedures to eliminate swelling, pain, tightness, and varicose veins. Because of the increased demand for these services, the amount of practices performing these procedures has grown too.
How can patients be assured of physician quality and clinical care?
Venous procedures are being performed by a variety of physicians with diverse specialty backgrounds. Even in specialties that included a venous interventional experience, such training is not standardized. The minimally invasive vein procedures allow outpatient treatment in an office setting where, unlike hospitals or surgery procedure centers, there is no external oversight. Currently, there is no objective review of indications or outcomes after these procedures, and no special licensing is required to vouch for the safety and quality of the procedures performed in the office setting.
There should be an ongoing evaluation of care and appropriate cost control by an objective external body. That is where accreditation comes in. The purpose of the Intersocietal Accreditation Commission–Vein Centers (IAC-VC) is to establish minimal requirements for facilities to provide high-quality venous care. Seeking accreditation demonstrates a commitment to quality by a facility and its members because they are willing to examine what they do, how they do it, and have others compare their results to external standards. There is considerable evidence that accreditation programs improve the process of care provided by healthcare services and improve clinical outcomes of a wide spectrum of clinical conditions.
FVPS has gone through the process of becoming accredited, and being re-accredited every two years. It is the ongoing process of being continually tested that demonstrates our commitment to patient care and outcomes. It is not burdensome or cost prohibitive to become accredited; rather it requires commitment on the practice to open its doors to an objective party to thoroughly evaluate its work. If anything is questionably done in a office or performance has been suspect, the accreditation process would uncover it and not pass the facility.
Patients would never prefer to go to a hospital or ambulatory surgery center that was not accredited. Just as patients should ensure that their physicians are board certified, patients should also not lessen their standards for their vein procedures. That is why Fox Valley Plastic Surgery is proud of its accredited Vein Center.
Wouldn't we all like to open a business in which no one checked out our work? The question is why anyone would go there.